Thomas Zurbuchen's latest visit to the University of Bern was all about innovation. On February 28 , the former NASA Head of Science and UniBE alumnus spoke about how innovative thinking and entrepreneurial action can be promoted and why one must never stand still.
Von Manuel Steffen
"Move fast and break things": At first glance, the world-famous motto of Silicon Valley could also have suited the lecture given by Thomas Zurbuchen last Tuesday in the Building for Exact Sciences. At the event organised by the Innovation Office of the University of Bern and the National Centre of Competence in Research (NCCR) PlanetS, the former NASA Head of Science spoke to a large audience about innovation, entrepreneurship and how they are handled at the US space agency.
Right at the beginning, Zurbuchen quoted Google founder Larry Page: "Organisations that stand still retreat." He said it was essential to question oneself and drive innovation at a fast pace if one wanted to take a leadership role and assert oneself. "I think that is an extremely profound insight. It reminds us never to rest on our laurels and to seek challenges," Zurbuchen says.
Innovation needs good reasons and clear goals
The actual purpose of innovation, however, is not to outdo the competition, emphasised the physicist, who grew up in Heiligenschwendi on Lake Thun and studied at the University of Bern. Innovation is important to him for other reasons: "For one thing, in everyday life you quickly forget – whether you are driving a car, visiting a shopping centre or reading the time on a clock – that all this only works because people created it, brought it to life out of nothing. Without innovation, none of it would exist," says Zurbuchen. "On the other hand, we need innovation to confront the problems of our time – be it cancer or climate change. It is precisely in this respect that we need to convince people to be innovative, to realise their potential and to learn to dare!"
Even with specific innovations, it is essential to ask why: "It is the biggest mistake of many projects that the 'why' question is skipped. But you have to have this discussion, you have to know why you want to push a certain innovation and you have to have defined goals. Just being fast is not enough." Thomas Zurbuchen's motto is therefore rather: "Move fast and break things – but only with a good reason and a clear vision". wieso man eine bestimmte Neuerung vorantreiben will, und man muss definierte Ziele haben. Schnell zu sein allein reicht nicht.» Thomas Zurbuchens Leitspruch lautet also eher: «Move fast and break things – aber nur mit gutem Grund und einer klaren Vision.»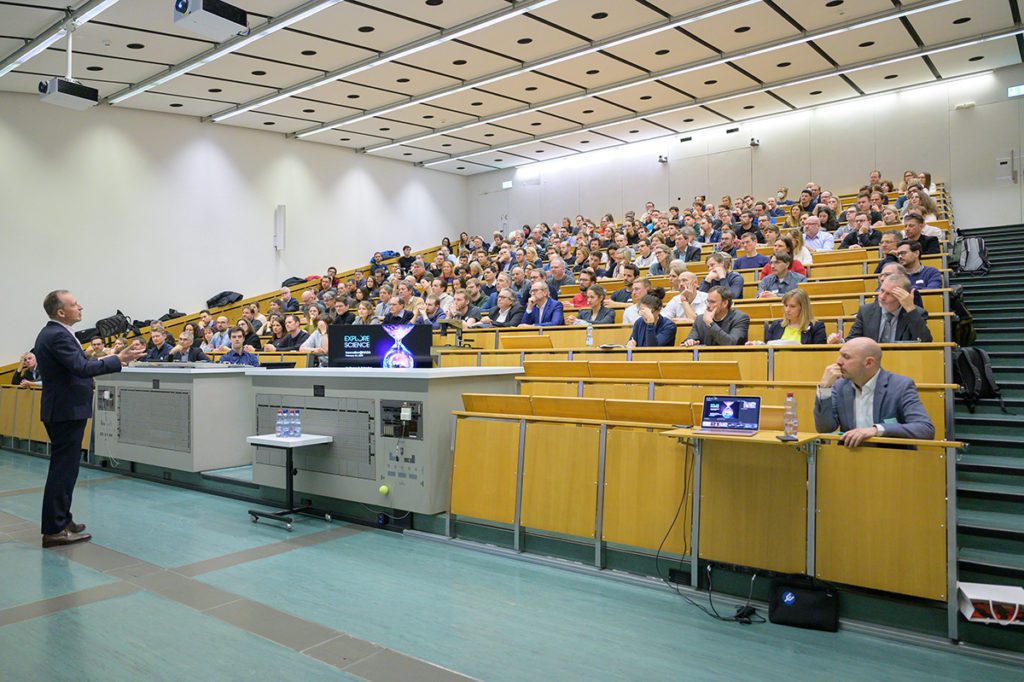 "There is no progress without failure"
NASA, where Zurbuchen headed the Science Mission Directorate for six years and was responsible for the agency's scientific activities, needs to be innovative "because it wants to be a global leader in space exploration, to expand human knowledge, to make it useful, and to think long-term," Zurbuchen said.
Recently, following a precision experiment developed at the Albert Einstein Center for Fundamental Physics (AEC) at the University of Bern, an international research team succeeded in significantly narrowing the scope for the existence of dark matter. With more than 100 members, the AEC is one of the leading international research organisations in the field of particle physics. The findings of the team, led by Bern, have now been published in the highly-regarded journal Physical Review Letters.
People who stand in the way of innovation usually mean well, Zurbuchen explained: "They are often concerned and question whether an idea is 'realistic' – but we shouldn't be interested in the realistic ideas, but in those that go to the limit and beyond. Zurbuchen draws a strong line when innovation leaders are personally attacked: "Leaders must never accept this. They must protect and improve their team and empower those team members who want to implement innovations." In general, innovation is a team thing: "Only shared ideas survive," Zurbuchen is convinced.
Innovation at NASA
Among the projects Zurbuchen was responsible for during his tenure at NASA were the new ARTEMIS lunar landing programme as well as the launch of the James Webb Space Telescope. "Twelve innovations were needed for the latter," Zurbuchen explains. "Too many", he notes: "It was incredibly difficult. Normally we tried not to have to implement more than five innovations per project." But too few innovations are also a hindrance, he says: "Projects that don't need any innovations at all are not interesting."
In recent years, it has also been important to realise that innovation often comes about through commercial partnerships. Zurbuchen mentioned NASA's collaboration with private space companies like SpaceX as an example: "That changed everything. The US has increased its market share of commercial rocket launches from 20 to 85 percent thanks to these companies," the space researcher said.
Asked what innovation he had not been able to push through during his tenure, Zurbuchen said: "I always wanted to put together a mission with the goal of reaching the nearest star... That would be really cool."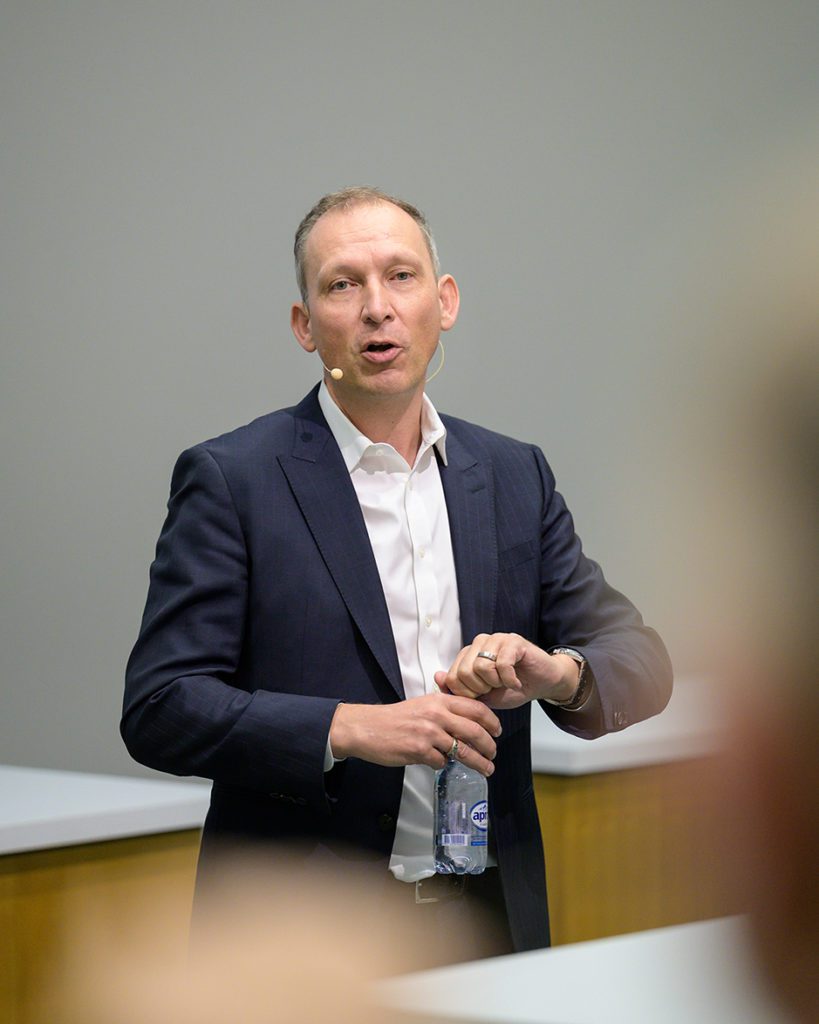 The University of Bern Promotes Innovation
Thomas Zurbuchen concluded his presentation with the central message that members of the research community should always also see themselves as innovators: "Innovation must be present and part of the discussion every day – it is a cultural mindset that must be consciously welcomed and actively promoted.
The fact that a culture of innovation is also being built up at the University of Bern is shown by institutions such as the ARTORG Center for Biomedical Engineering Research and the sitem-Insel, which Zurbuchen visited in the morning to get to know selected innovation projects. And Nicolas Thomas, Director of the NCCR PlanetS, emphasised in his closing statement: "A lot has changed at this university in the last twenty years. It is remarkable how much more important strategic considerations are today and how much more aware we are that innovation and knowledge can create value. The innovation-focused mindset may not have reached everyone yet, but we are well on our way!"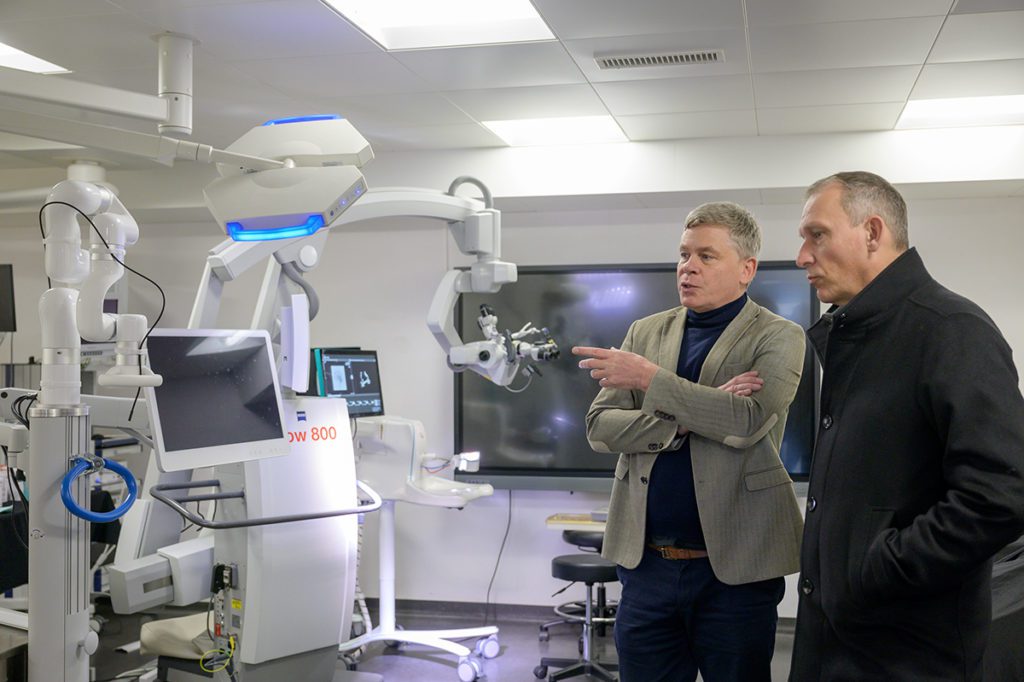 ---
ABOUT THE PERSON
Thomas Zurbuchen
studied physics at the University of Bern. He received his doctorate in experimental astrophysics in 1996. Zurbuchen was NASA's longest continuously serving Head of Science from October 2016 to December 2022. Previously, he was a professor of space science and astronautical engineering at the University of Michigan in Ann Arbor. There he also founded the Center for Entrepreneurship. His research focused on solar and heliospheric physics, experimental space exploration, innovation and entrepreneurship. Zurbuchen is married and has two children.
NATIONAL CENTRE OF COMPETENCE IN RESEARCH (NCCR) PLANETS
Planetary Science Made in Switzerland
In 2014, the Swiss National Science Foundation awarded the University of Bern the National Center of Competence in Research (NCCR) PlanetS, which it has since been leading jointly with the University of Geneva. Since its participation in the first moon landing in 1969, the University of Bern has taken part in space missions of organizations such as NASA, ESA or JAXA. It currently co-leads the CHEOPS mission of the European Space Agency (ESA) with the University of Geneva. In addition, Bernese researchers are among the world leaders when it comes to models and simulations of the formation and evolution of planets, for example.
Partner institutions in the NCCR PlanetS include the University of Geneva, ETH Zurich and the University of Zurich.
The NCCR PlanetS is divided into the following research areas:
Early stages of planet formation
Architecture of planetary systems, their formation and evolution
Atmospheres, surfaces and the interior of planets
Determination of the habitability of planets.